First Reading: Rom 13:8-10; Psalm: 112. R. v. 5a; Gospel: Lk 14:25-33
HOLY HATE
BY FR VALENTINE NNAMDI EGBUONU, MSP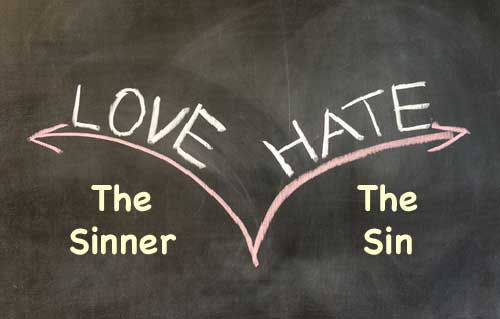 Remember the reply of Jesus to the question of the Pharisee on which is the greatest commandment. Jesus said: "You shall love the Lord your God with all your heart, and with all your soul, and with all your mind." He stated that this is the great and first commandment.  And then added the second, "You shall love your neighbour as yourself." (Mat 23:37-39). If Jesus said this, why then is he contradicting himself by telling us today to hate family and everyone before we are fit to follow him? Even St Paul tells us in the first reading to owe nothing to anyone except love.
1John 4:16 tells us that God is love, and whoever abides in love abides in God, and God abides in him. If then God is love, we will only be loving God with all our heart, soul and mind by being Godlike. And this means keeping all the commands of God which he gave us out of love. By keeping these commandments, we are expressing love to our neighbours as St Paul exhorts us in the first reading. This is because from the 5th to the 10th commandment, we are warned by God not to do any wrong to our neighbour ("thou shall not . . .").
So when Jesus tells us to hate every other person so as to be fit to follow him, he is simply telling us that following him by keeping God's command of love will not be accepted by all. Some will oppose this way. And such people will hate us and regard our love as hate. We have to then accept their hatred by keeping on the command of God. Those who may oppose our way of love for the things of God could be our parents, siblings or friends. Jesus says, if we must follow him, their oppositions shouldn't deter us. Whatever is good, even if it will hurt our loved ones, should be done anyway.  
PRAYER FOR THE DAY
Lord Jesus, may our love for you supersede everything we do. Amen.