First Reading: Jer 17:5-10; Psalm: 1. R. v. Ps 40:5ab; Gospel: Lk 16:19-31
NOTICE THE POOR
BY FR VALENTINE NNAMDI EGBUONU, MSP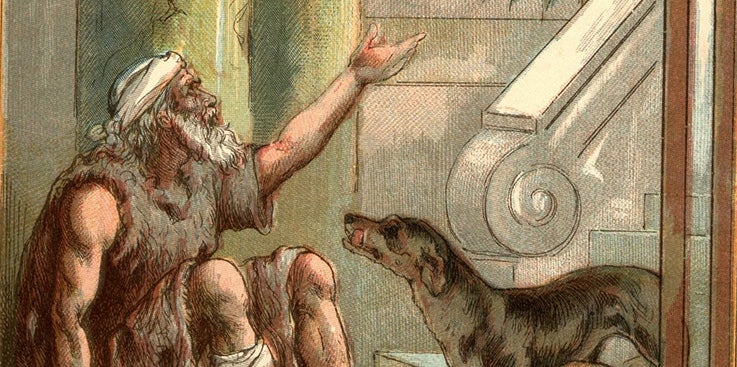 A crippled beggar in torn clothes was sitting by the roadside begging for his daily bread. Some passersby dropped few coins in his begging bowl; while others threw some money to him from their cars. On this day, there was a man driving along that same road. When he saw the poor condition of this beggar, he parked his car by the roadside and went to him and offered him some fine clothes. The crippled beggar looked into his eyes with a gentle smile and said to him, "Thank you so much. Others saw me; but you noticed me."
What was the sin of the rich man in the parable of today's gospel? Recall that this rich man did not order Lazarus out of his gate. He did not prevent Lazarus from feeding on the scraps which fell from his table. He also never attacked Lazarus. So what was his sin? It was his failure to notice the pitiable condition of Lazarus and to help him. If we failed to notice the condition of the needy, we may not be moved to help them. Lazarus was hungry and had sores around his body. But the rich man was blinded by wealth that he failed to see the painful condition of Lazarus. And this landed him in a place of torment.
If we really observed the condition of the poor and the hungry around us, perhaps we could be more compassionate. Many of them are homeless and wandering around without food to eat. They are not sheltered from the sun and the rain. And they are exposed to harm on the streets. There are also many people who obviously are in need of help judging from their living conditions. The poor may not always come to us. But it is our duty to go to them. As we enjoy the little comfort and pleasures of life; let us not be blind to the needs of the poor. Lest we lose the blessing of eternal life.    
PRAYER FOR THE DAY:
Lord Jesus, grant us a merciful heart. Amen.