IMMACULATE CONCEPTION (Solemnity) White
First Reading: Gen 3:9-15. 20; Psalm: 98. R. v. 1ab; Second Reading: Eph 1:3-6. 11-12; Gospel: Lk 1:26b-38
MARY'S 'YES' TO GOD
BY FR VALENTINE NNAMDI EGBUONU, MSP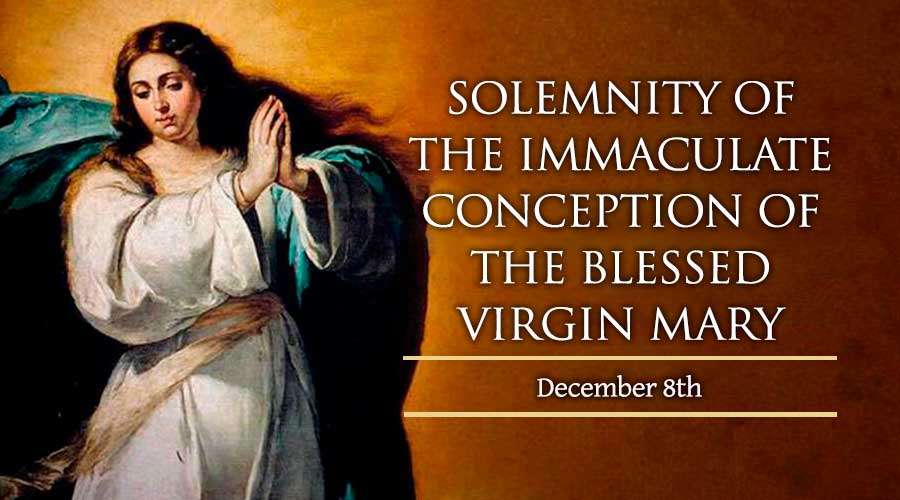 The Church began the celebration of the feast of the Immaculate Conception in the year 1854. Pope Pius IX made this infallible statement about the Blessed Virgin Mary: "The most Blessed Virgin Mary, in the first instance of her conception, by a singular grace and privilege granted by almighty God, in view of the merits of Jesus Christ, the saviour of the human race, was preserved free from all stain of original sin."
Many of us still doubt this truth that Mary was conceived without original sin. But we need to understand that it was not Mary's doing to be created this way. It was a gratuitous gift from God to her. Mary did not merit or earned it. God chose to create her that way through "prevenient grace." The divine grace that precedes human decision. God created Mary this way so as to prepare a perfect vessel for his son Jesus Christ who was to come into the world to save us. For God whose nature is holiness cannot come through a body corrupted by sin.
Mary's 'Yes' to the angel's message showed her cooperation with the grace of God already at work in her. For it was for this purpose that God prepared her from conception to be the Mother of our Saviour Jesus Christ. Unlike Eve who deviated from the plan God had for her, Mary on the contrary cooperated with his Creator and God. Just like Mary our Mother, we need to cooperate with the grace of God already at work in us. We can do this by constantly disposing ourselves to accepting and doing God's will for us. This is the only way we can find joy and fulfilment.
PRAYER FOR THE DAY
Lord Jesus, grant us the grace to always be submissive to doing your will. Amen.