ST ANDREW DUNG LAC, P. & COMPANIONS, M. (MEMORIAL) Red
He was a Vietnam diocesan priest who suffered martyrdom together with the Vietnamese Christians during the 17th through 19th centuries. They were 117 martyrs. 96 Vietnamese; 11 Spanish and 10 French missionaries. They were canonised along with 8 bishops; 50 priests and 59 lay people by Pope John Paul II on June 19, 1988.
First Reading: Rev 18:1-2.21-23; 19:1-3.9a; Psalm: 100. R. v. Rev 19:9a; Gospel: Lk 21:20-28
ACKNOWLEDGING THE PRESENCE AND BLESSINGS OF GOD
BY FR VALENTINE NNAMDI EGNUONU, MSP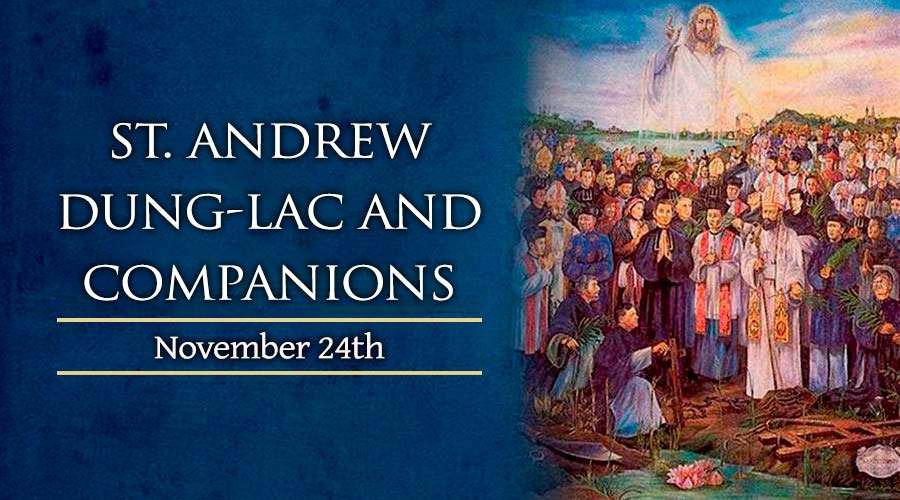 Jesus in the gospel of today reiterates the manner in which the city of Jerusalem shall be destroyed. His prediction was quite frightening as he painted the picture of how this unfortunate event will unfold. This evil shall befall Jerusalem because they failed to recognise God in the midst of them. Sometimes in life, we fail to see the good things around us and begin to focus on what does not really matter. We can be so engrossed on our selfish needs and fail to be grateful to God for what we have already received.
When we fail to recognise and be grateful to God for his presence and blessings upon our lives; this can have serious consequences. There are several reasons why we feel ungrateful to God. When we refuse to look within and around us and begin to look ahead of us. When we fail to acknowledge what we already have and are absorbed by our selfish expectations. When we begin to compare ourselves with other people whom we feel are better than us. And when we do not have time for reflection and introspection.
These things can mount up series of complaints that we may begin to find it almost impossible to identify the good things which God had already done us. It can evoke a feeling of sadness and dissatisfaction and kill that spirit of gratitude which God deserves from us. We can begin today to appreciate God for what we have already received from him. There was a time we had not what we already have now. This is a sign of God's love and providence. If we are grateful for these things, more blessings would come and not disaster.
PRAYER FOR THE DAY
Jesus our saviour, thank you for the many blessings we have received from you. We acknowledge your presence in our lives and praise you for your never ending love. Amen.