ST THERESA OF AVILLA, V.D. (Memorial) White
She was the daughter of a Spanish noble. Crippled by disease in her youth, she was cured after prayer to Saint Joseph. When her mother died, her father opposed her entry into religious life, so she left home without telling anyone, and entered a Carmelite house at age 17. Seeing her conviction to her call, her father and family consented. Soon after taking her vows as a Carmelite, Teresa became gravely ill, and never fully recovered her health. She began receiving visions, which were examined and pronounced holy and true. She considered her original house too lax in its rule, so she founded a reformed convent of Saint John of Avila. Teresa is a mystical writer and was proclaimed Doctor of the Church on 27 September, 1970 by Pope Paul VI.  
First Reading: Eph 1:15-23; Psalm: 8. R. v. 7; Gospel: Lk 12 8-12
THE SIN AGAINST THE HOLY SPIRIT
BY FR VALENTINE NNAMDI EGBUONU, MSP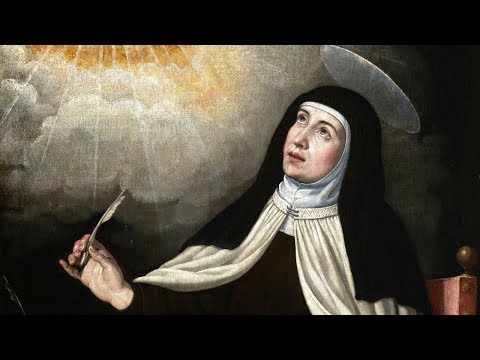 "Everyone who speaks a word against the Son of man will be forgiven; but he who blasphemes against the Holy Spirit will not be forgiven." (Lk 12:10)
Jesus warns us of the sin against the Holy Spirit. This sin cannot be forgiven because there is no way God can forgive us if we completely shut our hearts from him. Repentance is impossible without remorse or guilt. If a sinner failed to acknowledge his/her sins or completely shuns holiness of life; it will be impossible for such a person to be saved. Our sins can only be forgiven when we humbly acknowledge them and respond to God's healing mercy.
What are the sins against the Holy Spirit? It is the sin that despair on salvation. Presumption of God's mercy while we continue to sin endlessly. Making slanderous comment on someone's spiritual good like the group of Pharisees who envied the healing power of Jesus and attributed it to the prince of darkness. Resisting known truths of faith. Obstinate in sin and unrepentant at death.
There is no sin that God cannot forgive. But God's healing mercy is only granted to those who show remorse and seeks forgiveness. If the unrepentant refused God's power to save them; it means they have also denied the possibility of mercy and forgiveness from God. Also, when we choose to remain impenetrable to allowing God into our lives; we cannot be saved. God's grace cannot work in us when we are uncooperative. So God needs our cooperation in order to save us. We sin against the Holy Spirit when we refuse to cooperate with God's grace and mercy. Repentance is impossible in this case.
PRAYER FOR THE DAY
Guard us O Lord from the sin against the Holy Spirit. Amen.