SAINTS MARTHA, MARY AND LAZARUS (Memorial) White
First Reading: Ex 24:3-8; Psalm: 50 R. v. 14a; Gospel: Jn 11:19-27
THE BETHANY FAMILY
BY FR VALENTINE NNAMDI EGBUONU, MSP.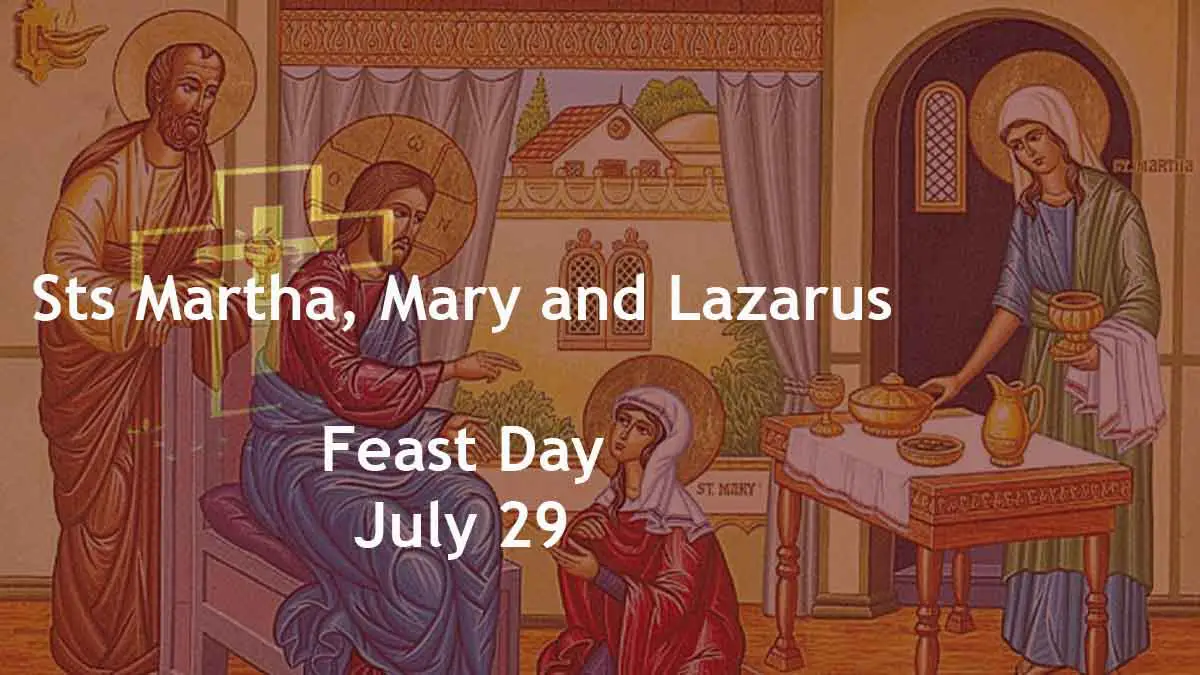 Customarily, on this day the church celebrates the memorial of Saint Martha, the Lord's disciple. But on February 2, 2021, Pope Francis expanded this memorial to include Martha's siblings, Mary and Lazarus. So today, we celebrate the memorial of Saints Martha, Mary and Lazarus. This family was known for their hospitality towards Jesus which made Jesus a regular visitor to their home. 
In Luke 10:38-42, Martha was a hostess to Jesus and displayed a dynamic personality by her hard work in preparing a meal for Jesus. Mary on the other hand sat at the feet of Jesus and listened to him. Although Jesus announced that Mary chose the better part, Martha's role however cannot be overlooked. These two sisters revealed the two sides to life: to work and to pray. Martha was known for her active personality while Mary emanates a contemplative personality. Lazarus their brother was reported to have been raised from the dead by Jesus in John's gospel chapter eleven. Jesus loved him so much that he wept at his tomb.
One virtue this family was known for was their hospitality. This made Jesus a constant visitor to Bethany. How hospitable are we as individuals and as a family? Do people feel at home with us due to our kindness and love or are our attitudes repelling to those around us. The love of the family of Martha, Mary and Lazarus could be the reason why Jesus was moved to resuscitate their dead brother Lazarus who was already in the tomb four days before his arrival. Kindness begets kindness. The scripture warns: "Do not neglect to show hospitality to strangers, for by so doing some have entertained angels without knowing it" (Heb 13:2). The saintly virtue of this family can help us to re-evaluate our spirit of hospitality. For the love we show to people will return back to us a hundredfold. Work, pray, and be charitable.
PRAYER FOR THE DAY
Lord Jesus, increase in us the desire to work and pray; and above all to be charitable to one another. Amen.