ST ELIZABETH OF HUNGARY (Memorial) White
Elizabeth was the daughter of King Andrew of Hungary. She married Prince Louis at age 13. Elizabeth built a hospital at the foot of the mountain on which her castle stood, and tended to the sick herself. Her family and courtiers opposed this, but she insisted she was only following Christ's teachings. Once, when she was taking food to the poor and sick, Prince Louis stopped her and looked under her mantle to see what she was carrying. The food had been miraculously changed to roses. Upon Louis' death, Elizabeth sold all that she had, and worked to support her four children. Her gifts of bread to the poor, and of a large gift of grain to famine stricken Germany, led to her patronage of bakers and related fields.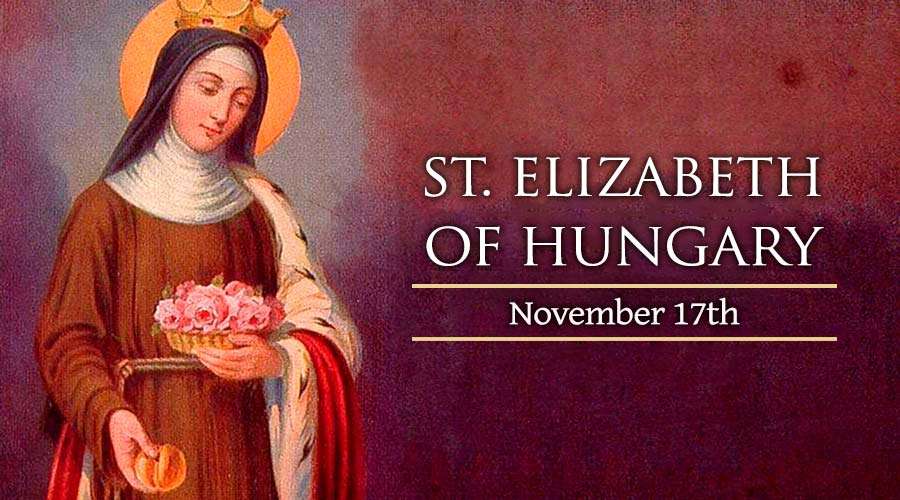 First Reading: Ws 13:1-9; Psalm: 19. R. v. 2a; Gospel: Lk 17:26-37
TRUSTING ON GOD
BY FR VALENTINE NNAMDI EGBUONU, MSP
"Remember the wife of Lot. Whoever seeks to preserve his life will lose it, but whoever loses it will save it." (Lk 17:32-33)
The story of Lot's wife who turned to a pillar of salt is a familiar story in the scriptures. Lot's wife looked back against the command of God due to fear as they left the city of Sodom and Gomorrah that was destroyed by fire and brimstone. Apparently, she was scared she might be hurt by the destructive fire and failed to trust in God who commanded them not to look back. But she looked back and turned to a pillar of salt. She wanted to save her life but she unfortunately lost it. Jesus reminds us of this incident in today's gospel to drive home a point.
Sometimes, we plan and live our lives as if God doesn't exist. We feel too comfortable and rely so much on our strength, talent, wealth, and earthly security. We insure our health and properties without insuring our life. We plan our future with so much certainty and forget that each day is a gift and a blessing from God that should be lived with humility and thankfulness. And this is why we often fail. This is why we feel empty and unfulfilled. And eventually, we die and lose everything.
Jesus tells us today to rely solely on him. In other words, adhering to the will and direction of God is the only way our life can truly be saved. Jesus is truly the way, the truth and the life. When we plan our life without him; we are planning to fail. Remember, "It was God who created our being, and knit us together in our mother's womb." (Ps 139:13). God knows the best for us and can order our lives accordingly if we allowed him. 'Every one of our days was decreed by God, before one of them came into being.' (Ps 139:16). So, if we must save our life, then we must allow God to take the lead.
PRAYER FOR THE DAY
Lord Jesus, may our will be lost in thine. Amen.