THE FEAST OF THE HOLY FAMILY OF JESUS, MARY AND JOSEPH
First Reading: Sir 3:2-6.12-14; Psalm: 128. R. v. 1; Second Reading: Col 3:12-21; Gospel: Mt 2:13-15.19-23
FOLLOWING THE EXAMPLES OF THE HOLY FAMILY
BY FR VALENTINE NNAMDI EGNUONU, MSP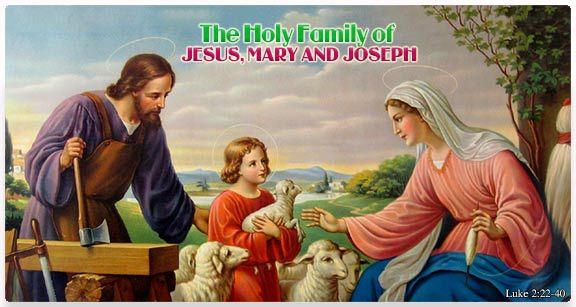 The Holy Family of Jesus, Mary and Joseph suffered several challenges like we do today in our individual families. There was a misunderstanding between Joseph and Mary when Mary was found with child by the Holy Spirit. Mary found nowhere but a manger to give birth to the baby Jesus. The holy family had to flee to a foreign land by night to save the baby Jesus from the evil plot of King Herod. Jesus got missing at the age of twelve in the temple and was only found after three days. These are only but a few that we know of as narrated in the Scriptures.
If we observed the life of the holy family; economically, Joseph was not a wealthy man. His carpentry work obviously was not a lucrative business. But notwithstanding he provided for the family and Jesus and Mary were contented with what was available. It doesn't also seem Jesus went to any school. He apparently learnt some carpentry skills from Joseph to support the family also. Joseph was missing at some point in the biblical story of the holy family which suggested he died even before the death of Jesus. There was no mention of him at Jesus' passion and death. And Jesus wouldn't have handed the care of his mother over to the beloved disciple if Joseph was alive. This also meant that Mary was widowed at some point in her life. Evidently, the holy family experienced the ups and downs of life.
When we face experiences like this in our families, the temptation is to think that God does not care or love us. But as we can see, even God's own family was not exonerated from the reality of life experiences. Even Mary had to watch helplessly as her only son was brutally and shamefully killed on a cross. The story of the holy family teaches us that every human person is susceptible to the vicissitudes of life. And that the only way to weather this storm is discipline, faith and trust in God. So just like the holy family, every family should learn to settle issues amicably, work hard, be contented with what they can afford, pray together as one and trust in the will of God for them. In this way, we can keep our families together in God's love.
PRAYER FOR THE DAY
Lord Jesus, amidst the challenges of life, keep our families together in your love. Amen.